Each beachgoer's reply to the manonabeach® question – "What does the beach mean to you…?" – is recorded.  Here are the results so far, including the most viewed beach pages in the series, below the charts:
There have been 724 different responses to the question, recorded in 1,259 narrative interviews at 505 beaches. These responses are divided into six manageable categories, as shown below:
For all categories, the most common responses are as follows:
The most common responses for each category are as follows:
emotional & spiritual:
work, economics & organisations:
family & friends:
sensory:
nature: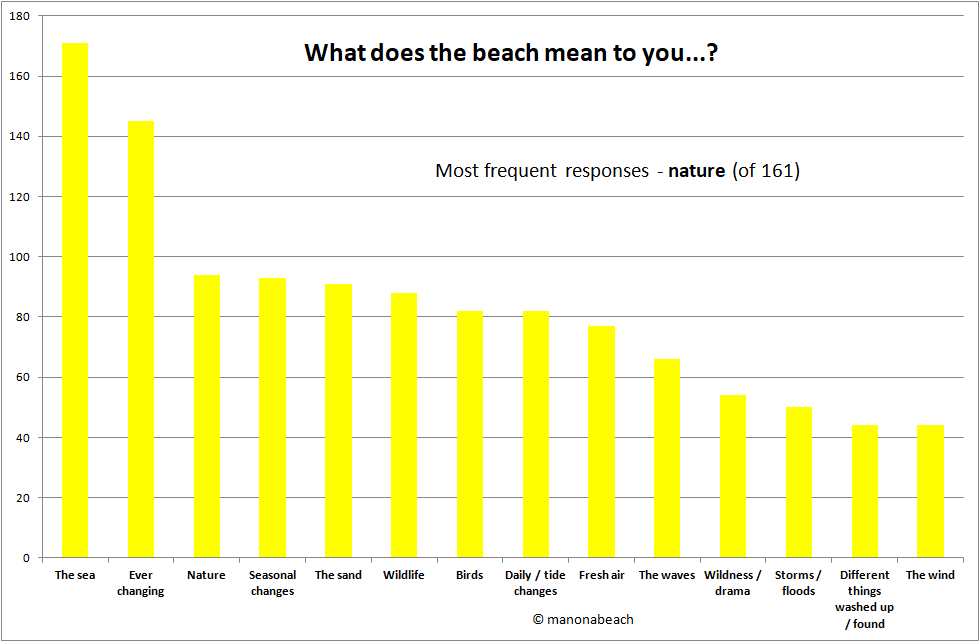 activities:
 Most viewed beach pages…
The 10 most viewed beach pages at manonabeach® are currently:
1. Covehithe, Suffolk, here
2. Porthcothan, Cornwall, here
3. West Bexington, Dorset, here
4. Saunton Sands, Devon, here.
5. Rinsey Cove, Cornwall, here
6. Middleton-on-Sea, Sussex, here
7. Mothecombe, Devon, here
8. Holywell Bay, Cornwall, here
9. Hope Cove, Devon, here
10. Kynance Cove, Cornwall, here