Each beachgoer's reply to the manonabeach® question – "What does the beach mean to you…?" – is recorded.  Here are the results so far, including the most viewed beach pages in the series, below the charts:
There have been 744 different responses to the question, recorded in 1,342 narrative interviews at 668 beaches. These responses are divided into six manageable categories, as shown below:
For all categories, the most common responses are as follows:
The most common responses for each category are as follows:
emotional & spiritual:
work, economics & organisations:
family & friends:
sensory:
nature: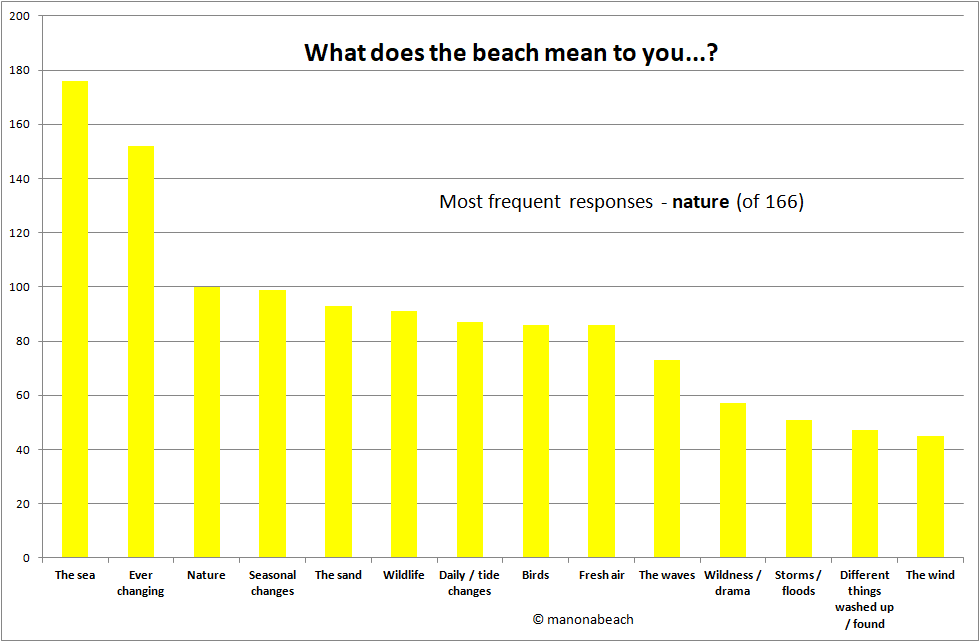 activities:
 Most viewed beach pages…
The 10 most viewed beach pages at manonabeach® are currently:
1. Kynance Cove, Cornwall, here
2. Crantock, Cornwall, here
3. Holywell Bay, Cornwall, here
4. Lulworth Cove, Dorset, here
5. Holkham, Norfolk, here
6. Southwold, Suffolk, here
7. Camusdarach, Highlands of Scotland, here
8. St Mawes, Cornwall, here
9. Claigan Coral Beach, Isle of Skye, here
10. Saunton Sands, Devon, here.