manonabeach® is proud to personally recommend the following places to stay on the coast.  As well as maintaining the highest professional standards of comfort, hospitality and fine dining, each business shares the manonabeach® core values – an appreciation of both the enhancing effect of the beach and the environmental sensitivity of our beautiful and varied coastal areas.  As a guest of these venues during the ongoing development of the manonabeach® series, each one represents my experience of the best coastal accommodation in the UK.
Below, each business outlines their offering and values, along with their answer to "What does the beach mean to you…?"
Devon
Langstone Cliff Hotel, Dawlish Warren

Set in 19 acres of child friendly woodland on the beautiful South Devon coast at Dawlish Warren and overlooking the Exe estuary, the Langstone Cliff Hotel has expansive lawns and gardens, as well as magnificent sea views over the golden sandy beaches and internationally famous nature reserve at Dawlish Warren. The beach at Dawlish Warren is just a short walk from the hotel.
The Langstone Cliff Hotel has provided the perfect setting for unforgettable Devon holidays since the first guests arrived in the Spring of 1947; prior to that it was what the Victorians referred to as a "Gentleman's Residence". The hotel is still a popular family holiday destination, especially during school holidays, half term breaks and for special packages at Easter, Christmas and New Year. For memorable family holidays the Langstone Cliff Hotel in Devon is hard to beat.
The hotel also provides accommodation for a host of weekend breaks and mid week breaks, some including high quality cabaret entertainment. A wide range of specialist dance holidays and weekend breaks, as well as a selection of Summer Jazz weekends, Langstone Special Weekends and  short mat bowls holidays are also available.
The Lincoln Bar is right at the heart of the Hotel and is open all day and every day. It is situated opposite the Langstone Cliff Hotel's large and comfortable public rooms. These consist of the Lounge, Verandah Room, Drawing Room and The Poolside Room, which are all fronted by a magnificent Victorian cast iron colonial verandah with it's spectacular sea views across the hotel lawns towards the Exe estuary and English channel.
Breakfast in the Lincoln Restaurant offers a huge selection that means you won't have to worry too much about lunch. A traditional full English breakfast is available, as well as lighter choices. Dinner offers a table d'hôte menu with a wide choice of dishes at each course and a very popular carvery option. There are always vegetarian dishes available and special dietary requirements can invariably be met. There are normally Gluten free options on each menu.
For a wonderful holiday experience by the sea, the Langstone Cliff Hotel is just a click away. Come and enjoy our warm Devon welcome!  Here is the Langstone Cliff Hotel beach eulogy:
"What does the beach mean to you…?"
Fun and Friends.
Kerri, at Langstone Cliff Hotel, below:
Northumberland
Waren House Hotel, Budle Bay, Bamburgh
This attractive Georgian house, once owned by the third Lord Derwentwater, now offers today's visitor a rare retreat for true relaxation, along with a central point for venturing through the delights of North Northumberland and the Scottish Borders.
Breakfast and dinner are served in the beautiful and romantic dining room where food is presented with the utmost care. Our cellar is stocked with a huge choice of reasonably priced fine wines.
All public rooms and bedrooms are non-smoking. Smoking is only permitted in the 'Puffin' – a separate building located near the entrance.
Relax in the gardens or in the comfortable lounge and adjacent library. For those seeking the simple pleasures of walking – the sandy shore offers mile upon mile of beautiful scenery.
From this tranquil setting it is easy to find the treasures of the Heritage Coast, including the magnificent castle at Bamburgh, just two miles away.
Grays Restaurant
For the past 5 years the Grays Restaurant has been awarded an AA Rosette Award for its excellence in food and service under the guidance of Head Chef Steve Owens, and in 2015 achieved two Rosettes. So why not be pampered in the elegant Grays Restaurant dining room where our team of five chefs prepare dishes of modern Northumbrian cuisine?
The menu is à la carte with a wide range of choices.
There is an extensive and carefully selected range of wines and aperitifs to choose from.

Northern Ireland
Londonderry Arms Hotel, Carnlough, County Antrim
Welcome
The historic Londonderry Arms Hotel is situated on the stunning Causeway Coastal route, with its unfolding scenes of the green Glens of Antrim, limestone cliffs and spectacular coastal views.
The Hotel is nestled in the picturesque Harbour village of Carnlough, surrounded by sandy beaches and with the majestic backdrop of Glencloy, the second of the nine Glens.
Start your Causeway Coastal Route experience here with us.  Located midway between Belfast and the world famous Giant's Causeway, the Londonderry Arms Hotel is the ideal base when exploring this region of outstanding beauty.
Walking through our Georgian doorway, you will immediately feel yourself stepping back in time.  Built in 1847 and once owned by Sir Winston Churchill, the hotel has been in the O'Neill family ownership for more than 70 years.
Rooms
There is something magical about the heritage of our rooms. Each one has been individually designed and furnished, complete with many thoughtful touches.
While every room is unique, all share the unmistakable 'Londonderry Arms' blend of comfort and relaxation.  You can see details here.
Food & Drink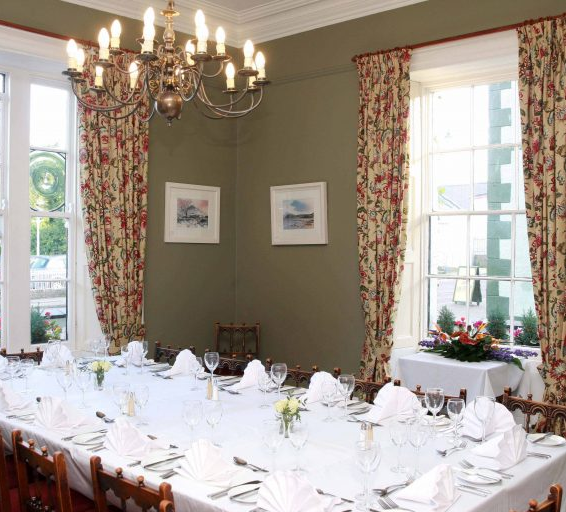 The Londonderry Arms Hotel is a haven for local friends and guests and visitors from afar. Featuring in several films and books, it has a sense of old world charm which appeals to all.
We welcome lovers of good food, whiskey connoisseurs and those wishing to escape the hustle and bustle of everyday life.  Relax in this hidden gem, unwind in a romantic setting.
Our cosy lounges with antique furniture, paintings by local artists, roaring open log fires, all provide a unique atmosphere of comfort and relaxation.
It is said that Lady Londonderry enjoyed Afternoon Tea back in 1848 and we are proud to continue this ritual – with a twist of local artesian creativity.  Our bars offer something for everyone.  We are delighted to offer our extensive wine list, which has been carefully selected to complement our menus.
Take your pick from the best of local craft beers from Hillstown Brewery and the Glens of Antrim Craft Beer & Ales, or enjoy one of our classic cocktails, or choose from our premium Gin menu, which showcases locally distilled Gins and includes the best from wider afield.
Arkle Whiskey Bar
A carved out special space at the heart of the hotel is the Arkle Whiskey Bar, named after the great Irish Steeplechaser and Cheltenham Gold Cup winner. 
Take a seat, surrounded by local artist John Henshaw's wood carvings and let our team help you choose from a collection of malts, blends and vintages from all over Ireland and some from western Scotland.
And before you go, touch the lucky horse shoe worn by Arkle and as legend says – you will have good luck!
"What does the beach mean to you…?"
You can hear Marnie's eulogy on the Carnlough beach page here.  She adds – "…the sunrises, the silver moonstreams and the constant lighthouse beam, which lights up each night"
Marnie, for the Londonderry Arms Hotel, below: