THE BRITISH BEACH GUIDE
Coast Magazine
The British Beach Guide featured as "Book of the Month" for August and September, 2023 at Coast Magazine.
The Scots Magazine
The British Beach Guide featured an article from Nick Drainey in September, 2023 at The Scots Magazine.
Here is a selection of additional press featuring the book:
BBC Radio Cornwall and BBC Radio Devon
The piece below was an interview with James Dundon on the Tiffany Truscott evening show at BBC Radio Cornwall and BBC Radio Devon to promote The British Beach Guide on publication:
BBC Radio Suffolk
The piece below was an interview with Sarah Lilley on her afternoon show at BBC Radio Suffolk to promote The British Beach Guide on publication:
TELEVISION
Reporting Scotland, at BBC Scotland
The television piece below was put together by BBC Scotland's Lisa Summers from an interview on Yellowcraig beach in East Lothian and aired nationally on Reporting Scotland, with an equivalent radio piece appearing on Good Morning Scotland.
Northern Visions TV

This feature was put together by Connor McKernan of Northern Visions TV in Belfast.
RADIO
BBC Radio Cornwall
The Radio Cornwall piece below was picked up by BBC Radio Devon and circulated nationally to all BBC radio stations.
BBC Radio Norfolk
The interview below featured on BBC Norfolk's  Drive Time show.
BBC Radio Suffolk
This live interview was the second of the week from a Suffolk beach.
BBC Scotland
The piece below was put together by BBC Scotland's Linda Howard and aired nationally on Out of Doors, presented by Mark Stephen and Euan McIlwraith.
BBC Radio Orkney
This interview was put together by Robbie Fraser and featured on Around Orkney.
Online
British Library and UK Web Archive
The manonabeach® series has been included in the UK Web Archive, a partnership of the UK Legal Deposit Libraries, based at The British Library.  This work has been led by Nicola Bingham, Lead Curator for UK Web Archiving at the Library.  We jointly presented to The Oral History Annual Conference, which was themed "Oral History & the Media".  Here is a summary, based on Nicola's abstract for her part of the presentation:
"The manonabeach® series features filmed interviews with beachgoers who respond to the question "What does the beach mean to you?"  This seemingly simple question elicits often complex personal testimonies, human commonalities and unique qualitative findings in a natural, informal setting.  Initiated by Ian Brighouse in 2011, the manonabeach® website comprises 1,333 narrative interviews at 662 beaches around the UK coast. The site employs various social and new media technologies to provide a rich and engaging forum for members of the public to come together and share their stories through the lens of the beach.
Integral to the project is the way it has been promoted, disseminated and shaped by the use of media. The website has featured in publications such as BBC Radio, Guardian Weekend Magazine, local newspapers and regional magazines, as well as various social media platforms. Media has been heavily engaged to promote and disseminate the website and has shaped the project in terms of gaining a wide and diverse range of participants.
The manonabeach® website will be archived by the British Library's UK Web Archive (UKWA). The Library has been archiving UK websites since 2005, initially on a small scale, selective basis and since 2013 on a large, whole domain scale under the auspices of the non-print legal deposit regulations.  The UKWA includes websites from across the spectrum of knowledge, representing all aspects of UK life. We have a significant body of oral history material including a special collection curated by the Library's Oral History Team which will be of considerable value to researchers now and in the future.
The manonabeach® website represents an important, culturally significant acquisition from the Library's point of view in that it contains narratives from 'ordinary' citizens across the UK, representing a diverse range of voices. This material compliments other, more 'official' view points in the archive and helps to promote unique testimonies that otherwise may not have been heard.
Archiving the manonabeach® website has raised several challenges and opportunities, which will be addressed in the presentation. The website itself is complex and dynamic. Social media is a challenge for web archiving technologies, necessitating bespoke solutions.  In addition to this, archiving the manonabeach® website has helped shape policies around selecting and ingesting oral history material. We operate under a regulatory framework but we also need to address ethical issues which go beyond legislation and thus far have had little attention."
Nicola Bingham, Lead Curator for UK Web Archiving at the British Library.
York Festival of Ideas
The 2021 York Festival of Ideas featured the "About manonabeach®" piece to camera in the "Early Editions"  section of their online festival.  You can see the piece here – manonabeach® York Festival of Ideas.
The 2022 York Festival of Ideas featured an interview which explored the back story to the series.
Mercedes-Benz South West
Put together by Amber Massey, the manonabeach® series featured as the Cornwall leg of the Mercedes-Benz South West Sustainable Summer Roadtrip around the South West, with a contribution that looked at the Mercedes GLC 300de hybrid SUV on a tour of Cornwall highlights, as follows:
An earlier featured interview with Mercedes-Benz South West, as follows:
The origins.
Travelling from coast to coast armed only with his Mercedes-Benz 190 and the question, "What does the beach mean to you?" the manonabeach® series was born.
manonabeach® is the title describing the ambition of one man and his quest to determine what different beaches mean to the different people that visit them. Now reaching 139 countries worldwide, manonabeach® has become a forum for all those who care for the coastline, and particular areas of it, to come together and share their stories.
Mercedes-Benz South West spoke to the man behind the movement to find out more about this on-going adventure, his findings and the part his Mercedes-Benz has had to play in it all. Eager to let his findings speak for themselves, manonabeach® prefers to remain anonymous.
You can read the full interview here.
Crabpot Cottages blog
The manonabeach® series was showcased in a July, 2016 blog entry from Crabpot Cottages in Norfolk.  Penny's piece turns the question back to her readers and includes her own warm eulogy to the beach, as you can see here.
Yorkshire Life
The series featured in a piece by Jo Hayward in the Yorkshire Life online magazine.
Collaboration with responsibletravel.com
manonabeach® is seen in 176 countries around the world.  This collaboration showcased some common values, specifically a shared appreciation of the beauty of the natural environment and its enhancing effect on those who visit it, plus a mutual promotion of responsible and sensitive use of this resource.
Lavieannerose
Dr Annerose DeCruyenaere is an international academic and theologian, based in Germany and California.  Her sensitivity to the aesthetic at manonabeach® is summed up in a translation of her final paragraph, describing the work as follows:
"Being at one with the ocean and the people is the energy that drives him, and this is the energy that he shares with others.  manonabeach connects people with the beach, and people with each other. This man has the temperament of the rising tide, but he restrains himself like the ebb tide, preferring to let other people talk. The process is a passing connection; he doesn't hold on to the people he encounters at the beach, and he doesn't let anybody hold him back. His anonymity gives him freedom. He is a man who is in his element."
Her travels and work are a celebration of spiritual diversity and inclusion.
Coast magazine Facebook

ACADEMIC
Thinkspace London for Digitalks1: iCampaigning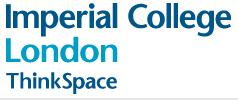 The first Digitalks discussion for Thinkspace at Imperial College, London  – icampaigning – considered how digital community building can result in real-world support for marine conservation.  Other panelists were marine conservationist Tom Hooper, MBE, broadcaster and author Helen Scales and the charity BeASeachanger's co-founder, Helen Webb.
Collaboration with the European Centre for Environment and Human Health (ECEHH)
manonabeach® was asked to collaborate on the blue gym project at ECEHH by University of Plymouth applied social psychologist, Dr Mat White, who heard the BBC Radio Cornwall piece (see earlier) and remarked on the similar aims of the two projects.  He describes the collaboration as follows:
The Blue Gym team have recently been supporting manonabeach with his innovative work on Cornwall's beaches. manonabeach asks people he meets on beaches "what does the beach mean to you?" and posts short films of the varied replies he gets on his website with fascinating responses. The knowledge transfer team at the European Centre for Environment & Human Health have helped manonabeach network with others by inviting him to join the forum, and putting him in touch with the University's Business Collaboration Network.
…Dr Mat White, the blue gym, ECEHH.
Collaboration with the Environment and Sustainability Institute
manonabeach® engaged with the Environment and Sustainability Institute (ESI), the University of Exeter's research institute based on their Cornwall Campus, near Falmouth.
The ESI is an interdisciplinary centre, leading cutting-edge research into solutions to problems of environmental change; in so doing they hope to enhance people's lives by improving their relationships with the environment.
Key to their research is the concept of ecosystem services, and the cultural services provided by the environment are of particular relevance to my work.
MAGAZINES
Guardian Weekend magazine
Pembrokeshire Life magazine
The following piece, edited by Mavis Evans with photos from my own archive, featured in the November edition of Pembrokeshire Life magazine.  Click on each image to read more clearly.
and

Dorset magazine
The following piece, edited by Helen Stiles with photos as credited in the article, featured in the October edition of Dorset magazine.  Click on each image to read more clearly.
and

Cornwall Life magazine
The following piece, edited by Carol Burns with photos as credited in the article, featured over five pages in the August edition of Cornwall Life.  Click on each image to read more clearly.
and
and
and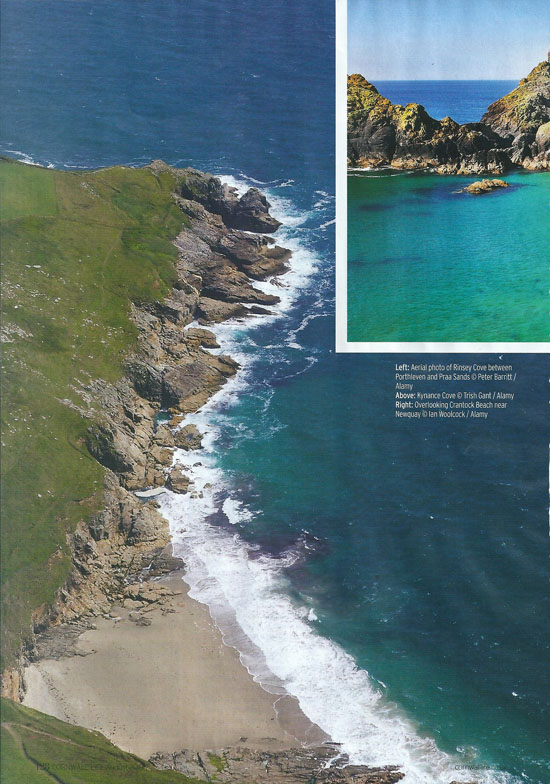 and finally…
Cornwall Today magazine
The following piece, by Yayeri Van Baarsen with photos by Mike Newman, featured over four pages in the May edition of Cornwall Today.  Click on each image to read more clearly.

and

and finally…
Country Walking magazine
NEWSPAPERS
Banffshire Journal
The following two page spread, by Kyle Ritchie, appeared in the Banffshire Journal in April, 2013.  Click on each image to read more clearly.
and
Mearns Leader, Stonehaven
East Anglian Daily Times

Eastern Daily Press, 2012

LINKS
Here are links to some related websites and inspirational figures, some linking to manonabeach.com:
1. Freshwater Boatyard – Positioned in an exquisite setting on the Roseland Peninsula where you are surrounded by outstanding natural beauty, the sheltered and tidal location makes the boatyard perfect for all your boating needs.  Owner Mark Humphrey kindly invited me to this heritage boatyard on the Percuil River by St Mawes, where I met master boat builder, John Leach.  He was renovating a St Mawes One Design boat that he'd originally built.  Here is the Percuil Freshwater page, with John's interview.
2. Balnacra Arts – Vicky Stonebridge is a talented artist and potter, based at Lochcarron in Wester Ross, Scotland.  She has an empathy for Celtic and Pictish heritage and culture, as well as the natural environment through the seasons, reflected in her work.
3. Torridon Stores and Cafe – Jo runs a super local store and cafe in Torridon, set by the beach in one of the most stunning locations in the UK.  As well as excellent fresh produce, Jo introduced me to the nearby Daibaig Coastal Circuit.  Thank you!
4. Durham Coast Heritage Partnership – I interviewed environmental campaigner Raymond Leonard at Mellon Udrigle in the Highlands & Islands region, beach page here.  Raymond explained the innovative work of this initiative, which promotes considerate nature tourism in a previously despoiled industrial area, whilst respecting the rich cultural and working history of Durham, as well as highlighting its interesting geology.  Well worth a visit, like the cleaned and welcoming Durham beaches.
5. Sophie Neville – I met award-winning author and wildlife artist Sophie at Hotel Tresanton in St Mawes, during the Roseland Festival.  After graduating from Durham University with a degree in Anthropology Sophie had a career in television working on dramas such as 'Doctor Who', 'Eastenders', 'My Family and Other Animals' and the vet series 'One by One' before directing educational programmes for BBC Schools. After producing the 'INSET' series she emigrated to southern Africa where she worked freelance for the BBC Natural History Unit whilst working as a safari guide. Disaster stuck when she fell off a horse breaking her pelvis but she used her time on crutches to turn professional as a wildlife artist and has since exhibited widely in both the United Kingdom and South Africa where she was based for twelve years. Having been brought up with tame Asian short-clawed otters, Sophie has given a number of talks on otter conservation that have caught the attention of the British press. Now living in Hampshire, she gives talks on a variety of subjects although the most popular remains 'The Secrets of filming Swallows & Amazons', a movie she appeared in at the very start of her career.
6. John Birdsall Social Issues Photo Library – This is a 'people' library with a difference – images taken in the local community of people going about daily life. All aspects of social issues are covered.  I interviewed Director Liz at Sheringham in Norfolk.
7. Field Studies Council – Bringing Environmental Understanding to All – Field Studies Council, FSC, is an environmental education charity providing informative and enjoyable opportunities for people of all ages and abilities to discover, explore, and understand the environment.  FSC is an independent charity receiving no core revenue funding from statutory sources and therefore reliant on fees paid by their visitors and on the generosity of donors, trust funds and grant bodies to finance their activities.  Kerry from FSC was interviewed at Blackpool Sands in Devon.
8. Hume Sweet Hume – I interviewed Lizza at Linklet Bay on Westray, Orkney.  She works with her sister Jenna on the island.  Here's how they describe their work – "From our workshop, located on one of the most northerly of the Orkney Islands, we create a range of knitted garments and home textiles. Taking inspiration from the colours and textures of the environment around us and using natural, luxury yarns, we aim to create products which, whilst reflective of our island, are equally at home anywhere in the world!  We really hope you enjoy browsing our site – and indulging in a slice of island life."
9. Viking Hiking – As well as being an excellent tour guide resource, this website is a wonderful celebration of all things Orkney, from archaeology to historical time travel and accessible history.  First class..
10. Cornwall Firepits – "Bespoke Sculptural Firepits Handcrafted in the Heart of Cornwall."  Will is a talented sculptural artist, who designs and creates spectacular, spherical firepits.  Designs are first drawn onto mild steel spheres, then cut to shape, using a hand-held plasma cutter.  The results are breathtaking and evocative, with each fire drawing new resonance from his artwork.
11. MENTRIX – Set in the incredible landscape of Kavir-e-Lut in eastern Iran and including references to Tehran's urban environment, this celebration through dance and film of Nature and the desert environment is imagined by MENTRIX and Gilles Esteve.  An excellent inclusive, inspirational and empowering initiative.
12. JOAN – Supporters to the Coverack beach page via their wonderful Coverack holiday cottage, these two sisters offer bespoke Interior Design & Styling, as well as Vintage Furniture Sourcing in the City of York and beyond.  Sharing a passion for well designed, beautifully styled interiors, they can bring a fresh pair of eyes to your brief, suggesting alternative ideas and solutions that will help transform your living spaces.  Highly recommended.
13. Friends of Pendower Beach – I met Helen Hastings from Friends of Pendower Beach when I was giving a talk on the series at Hotel Tresanton in St. Mawes, which is also located on the beautiful Roseland peninsula in Cornwall. The organisation exists to protect the beach from over development. Pendower beach is described on its home page as follows – "One of the most beautiful and highly protected beaches in Britain – loved by local people and visitors from all over the world".