Cornwall Today magazine, May 2013…
The following piece, by Yayeri Van Baarsen with photos by Mike Newman, featured over four pages in the May edition of Cornwall Today.  Click on each image to read more clearly.
and
and finally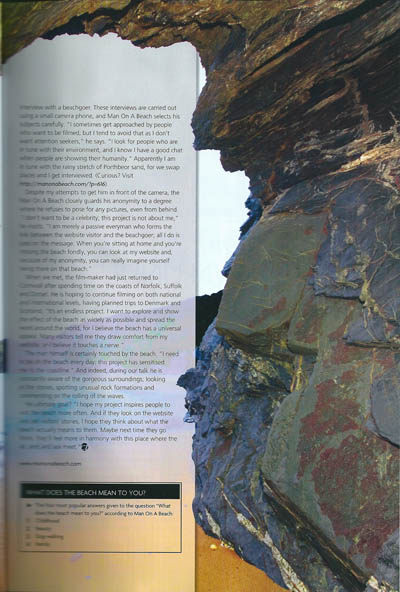 Interview with BBC Scotland, April 2013…
The piece below was put together by BBC Scotland's Linda Howard and aired nationally on Out of Doors, presented by Mark Stephen and Euan McIlwraith.
Banffshire Journal, April 2013…
The following two page spread, by Kyle Ritchie, appeared in the Banffshire Journal in April, 2013.  Click on each image to read more clearly.
and…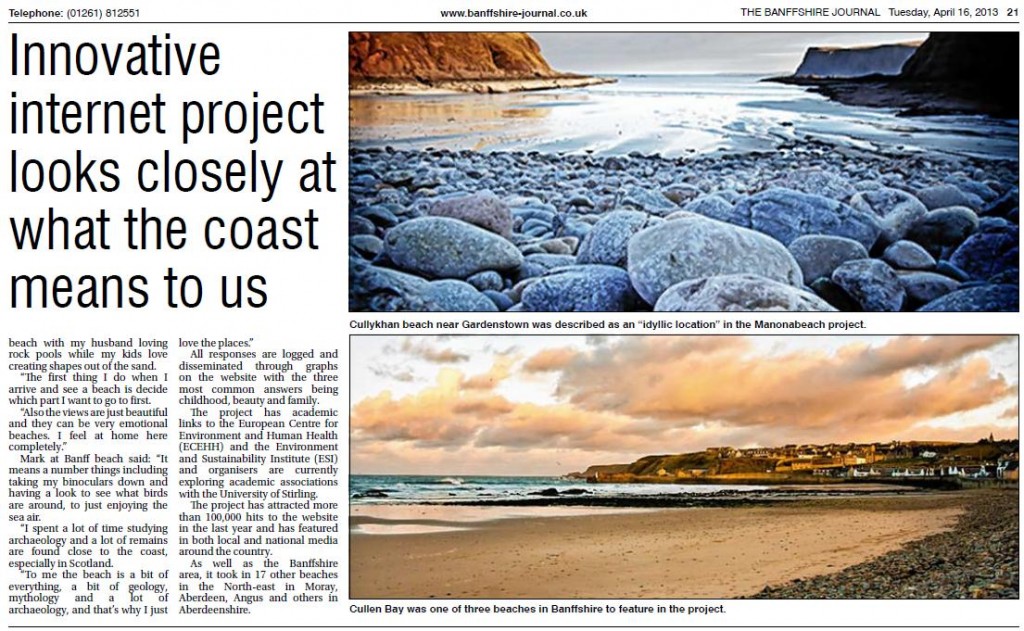 Mearns Leader, Stonehaven, April 2013…
Interview with BBC Scotland, February 2013…
The piece below was put together by BBC Scotland's Lisa Summers from an interview on Yellowcraig beach in East Lothian and aired nationally on Good Morning Scotland.  To see the video version from Reporting Scotland, type "manonabeach" into the Search box on the BBC Scotland home page or click here.
Interview with BBC Radio Suffolk, November 2012…
The piece below was a live interview on Lesley Dolphin's BBC Radio Suffolk show, the second of the week from a Suffolk beach.
Interview with BBC Radio Norfolk, November 2012…
The piece below was put together by BBC Norfolk's Matthew Gudgin and aired on his Drive Time show.
East Anglian Daily Times, November 2012…

Eastern Daily Press, November 2012…

Collaboration with responsibletravel.com, ongoing from October, 2012
manonabeach is already viewed in over 100 countries around the world.  An association with the responsibletravel.com blog spreads the word and confirms the common values of manonabeach.com and responsibletravel.com, specifically a shared appreciation of the beauty of the natural environment and its enhancing effect on those who visit it, plus a shared promotion of responsible and sensitive use of this resource.
Collaboration with the European Centre for Environment and Human Health (ECEHH), April, 2012 – 2013.
manonabeach was asked to collaborate on the blue gym project at ECEHH by University of Plymouth applied social psychologist, Dr Mat White, who heard the BBC Radio Cornwall piece (see below) and remarked on the similar aims of the two projects.  He describes the collaboration as follows:
The Blue Gym team have recently been supporting manonabeach with his innovative work on Cornwall's beaches.  manonabeach asks people he meets on beaches "What does the beach mean to you?" and posts short films of the varied replies he gets on his website, with fascinating responses. The knowledge transfer team at the European Centre for Environment & Human Health have helped manonabeach network with others by inviting him to join the forum, and putting him in touch with the University's Business Collaboration Network.
…Dr Mat White, the blue gym, ECEHH.

Collaboration with the Environment and Sustainability Institute, April, 2012 – 2013.
manonabeach has engaged with the Environment and Sustainability Institute (ESI), the University of Exeter's research institute based on their Cornwall Campus, near Falmouth.  The ESI is an interdisciplinary centre, leading cutting-edge research into solutions to problems of environmental change; in so doing they hope to enhance people's lives by improving their relationships with the environment.
Key to their research is the concept of ecosystem services, and the cultural services provided by the environment are of particular relevance to my work.
Interview with BBC Radio Cornwall, 16th March 2012…
The piece below, by BBC Cornwall's Julie Fisher, was also picked up by BBC Radio Devon and circulated nationally to all BBC radio stations:
Guardian Weekend magazine, 11th February, 2012…
First National press for manonabeach, February 2012…
Cornwall Today magazine has made manonabeach website of the month, Feb 2012…
Cornwall Life magazine features the site in its News section…
Eight manonabeach interviews, including the chat below, with artist Jim Woolley at Girt beach, Kingsand & Cawsand, have featured on the Sky News website.  Just enter manonabeach into their Search box to see them all.
Links to manonabeach.com :
1. www.cousinjack.org -  for the North America and Canada Cornwall Association.
2. www.poldhu.com – The Poldhu Beach cafe videos page includes the manonabeach interview.
3. www.pengellys.co.uk – Pengellys Fishmongers in Looe, featured on TV's Coast programme, has a link and video from manonabeach.com.
4. The Cove, Lamorna, Cornwall, luxury accommodation and restaurant, features manonabeach.com in its blog.
5. www.jenlarkin.co.uk – Journeying Artist Jen Larkin – Stunning Original Paintings – Inspired by Walks Across Cornwall & The British Isles.
6. www.tidalmarks.com – the site for artist Lindsey Keates, whose work features the coastline and sea of Cornwall and North Devon.
7. A Day at the Beach – Rowena is a talented artist and illustrator, currently working on a project called "A Day at the Beach", featuring her sketches of people on the beach.  She captures the drama and dynamic of human interaction in an understated way.  Her work is developing into wider illustrative portraits, as you can see here.
8. www.languagecaster.com – an innovative, unifying global website that uses listening, reading and writing about something learners enjoy – football – to improve English language skills.
9. www.artspace-cornwall.co.uk – I interviewed artist Sara Pound at Porthmeor beach. Art Space co-operative gallery in St Ives is run on an equal and democratic basis, which encourages the artists – Helen Atkins, Victoria Hilliard, Marie Keeling, Lesley Ninnes, Sara Pound, Petroushka Sura-Field and Julian Rowe – to include new work. The individual creative styles vary from figurative to abstract, resulting in a diverse exhibition.. Art Space Gallery has built a reputation for quality paintings, prints and 3-D work, sold to collectors both nationally and internationally.
10. www.dkandthepirate.blogspot.com – Claire Whittenbury's daily blog from the swimmers of Walberswick in Suffolk, featuring photos, tide and temperature updates and musical interludes, a welcome taste of the seaside to remind you of the beach and the sea.
11. www.ournorfolk.org.uk – Sarah Tribe's guide to what's happening in Norfolk, accessible, interesting and divided into appealing categories, well worth exploring.
12. The Ship Inn, Elie in Fife, where games of cricket are played at low tide on the beach, right outside the inn.
13. Lanteglos – Alison Fogg's excellent website showcasing the attractions and daily life of this beautiful part of Cornwall, on the east side of the River Fowey estuary.  Her blog also documents current issues, including the second PIB blight of Cornish beaches in 2013, earlier reported in this article in The Ecologist.
14. A Life in Theatre – Carol Pluckrose is an actor turned theatre director and co-founder of arc theatre.  I was introduced to her blog by Judith, whom I interviewed at Lyme Regis in Dorset.
manonabeach videos have also featured on:
1. www.through-the-gaps.co.uk – the Newlyn harbour website.
2. www.ports.com – manonabeach's Coverack interviews still feature here.
3. http://uservideos.sky.com/site-skynews/ – type manonabeach into the Search box there to see the videos currently featured.