Season: winter
A bright, low sun greeted me at Daymer Bay for this Christmas holiday visit to North Cornwall. Visitors and locals alike were enjoying the mild, clear day.  There are fine views across to Stepper Point and Padstow from Brae Hill, as well as a glimpse of the little church at St Enodoc, sheltering behind the hill on the golf course.  This is an idyllic place, highly recommended.
What the beach means to Philip and Sarah.
A view over Daymer Bay, from the top of Brae Hill.
Season: winter
A grey, mild morning greeted me for my winter re-visit to Daymer Bay, on the Camel Estuary in North Cornwall.  I went up onto Brae Hill and round to Rock, then back via the sand dunes, an iconic walk in this area.  The spirit of John Betjeman, buried at St Enodoc Church, his statue at St Pancras station in London, pictured below, was in the air.  The ebb tide made the beach glisten, so I climbed through the rock pools and up towards Greenaway, on the other side of the beach, where I met Elaine, who explained her attachment to the area.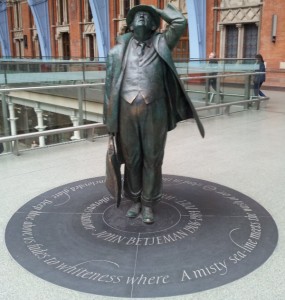 St Enodoc Church and round over Daymer Bay, towards Stepper Point.
Elaine explains what the beach means to her.